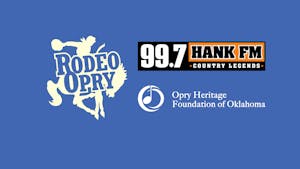 Kaitlin Butts
Philip Bauer as Johnny Cash
Jude Northcutt
Darlin' Darla
Mallory Eagle
Emily Faith
Olivia Kay
Madison McCoy
Pat Payne
Maddox Ross
$50.00 - $250.00
Sold Out
99.7 Hank FM & the Rodeo Opry present a LIVE Outdoor concert in the heart of Historic Stockyards City!
Hank FM presents The Opry Live! from the Oklahoma National Stockyards! Join us for a safe, socially distanced show on Saturday, October 17th featuring an all star line up of your Rodeo Opry favorites! Tickets can be purchased in groups of 2, 4, or 6. In an effort to safely space out seating in advance, single tickets are not available to purchase for this event. All proceeds will benefit the Opry Heritage Foundation of Oklahoma.
Come hungry and thirsty! There will be food trucks and bar open to our audience members.
HOSTED BY DARLIN' DARLA
FEATURING:
KAITLIN BUTTS
JUDE NORTHCUTT
PHILIP BAUER AS JOHNNY CASH
MALLORY EAGLE
PAT PAYNE
MADDOX ROSS
EMILY FAITH
DUSTIN JONES
MADISON MCCOY
OLIVIA KAY
& MORE OPRY FAVORITES!
Venue Information:
Stockyards Central
2312 Exchange Ave.

OKC, OK, 73108